About us
ITOH DENKI first inaugurated its business as a small motor manufacturer in 1946. Since then, our core competence enabling the entire production from A to Z helped us grow steadily from a small manufacturer to a manufacturer of unique motorized rollers that enjoys majority of global market share. It goes without saying almost every equipment in our production facility are designed and built by our in-house engineering team, ensuring the product quality and reliability along with competitiveness.
Since its inception in 1975, the Power Moller®, an internally motorized conveyor roller has enjoyed continued success as a vital component for automation in manufacturing and logistics industry. Because of its safe, quiet, space saving design, manufactures world wide quickly accepted the Power Moller®
The Power Moller® is distributed globally through our subsidiary in the U.S., France, Hong Kong and China, which consist our four global bases.
The Power Moller 24, incorporating brushless dc motor is well recognized as MDR; Motor Driven Roller as defined in the United States. Its mega success at United States Postal Service (USPS) accelerated the global success in logistics industry ensuring quick and accurate delivery.
Along with the evolution of the Power Moller®, we also have developed "Power Moller Plus" series conveyor modules incorporating the Power Moller® to meet diversifying market needs. We also have elaborated network control technology including EtherNet/IP, CC Link and Profinet to satisfy demanding handling requirements with high speed, intelligence and diagnosis, supporting the material handling in the age of Industrie 4.0.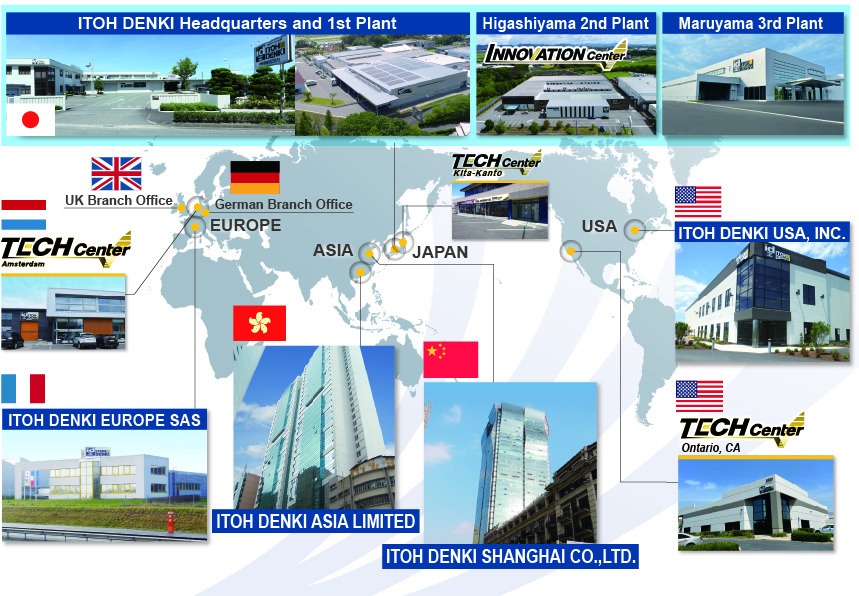 Founded
February 1 1946
Incorporated
October 1 1965
CEO
Kazuo Itoh
Business Description
Design, manufacture and sales of motorized conveyor rollers, associated
controllers, and motorized conveyor modules.
Headquarters & plant
1146-2 Asazuma-Cho, Kasai, Hyogo 679-0180 Japan
 

Phone:

+81 790 47 1225 (rep)
 +81 790 47 0955 (international)
 

Fax:

+81 790 47 1325

Sales Office
Tokyo, Nagoya
Subsidiary

ITOH DENKI ASIA LIMITED
GREEN CLOCKS CORPORATION